Print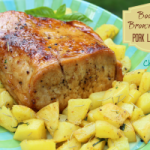 Bourbon Brown Sugar Pork Loin Roast | Slow Cooker Recipe
This Bourbon Brown Sugar Pork Loin Roast is a recipe to impress! Cook in a slow cooker, make a sweet & savory glaze to baste, and finish with a quick broil for a carmelized crust.
Start a skillet heating up on medium-high, and add 2 tbs of your favorite cooking oil.

Make a rub with 2 tsp Kosher salt and 1 tsp freshly ground black pepper, and rub over roast.

Sear each side in a heavy skillet on medium-high heat, 1-2 minutes on each side until golden.
Bourbon Brown Sugar Glaze
Whisk together remaining ingredients in a small pot, heating until boiling.

Reduce heat to medium-low and cook for 3-4 minutes, until glaze thickens a bit (it will still be runny).

Baste pork loin 2-3 times during the last hour.

Optional: Place roast onto foil-lined pan, baste with glaze and broil on high 1-2 minutes to carmelize crust.