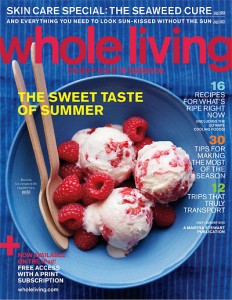 Just through tomorrow morning, you can purchase a new 1-year (6 issue) subscription to Whole Living Magazine for just $3.99 from DiscountMags.com. The price will show up as $14.95, but use coupon code CHAOSISBLISS to reveal your new discount at checkout.
About Whole Living Magazine:
Whole Living brings you the best in healthy living. Whole Living will teach you how to live a healthy, natural life. Learn how to relax, eat right, treat your body right, de-stress, exercise for your health and so much more. Each issue is filled with features, columns and departments that help readers explore natural, holistic health and wellness, personal growth, the environment, spirituality and social change. If you are looking for a healthier way of living, this magazine is just for you!
You can purchase up to 2 years at this price!
Offer expires at 9:59am EST 11/13/12.
Check out other coupon codes to help you save even more when shopping online!
This post may contain affiliate links. By using these links you support my site – thank you! See my disclosure policy.
(Visited 20 times, 3 visits today)