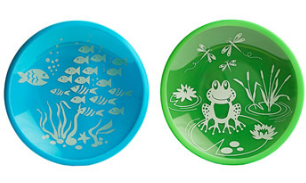 Totsy has some of the hottest sales around, for moms, children and around the house. Today is no exception!
Brinware Tempered Glass Dish Sets for children are just $11.99 on Totsy right now (were $19.99).
Here's more about Brinware:
Constructed from tempered glass with a silicone coating to provide an extra-durable layer of protection and slip resistance, these BPA- and phthalate-free dishes offer an eco-friendly alternative to plastic plates—with awesome aquatic designs to boot!
Two quick facts if you're new to Totsy:
If you place your first order within 30 days after registering as a new member, your order will ship free!
With your first purchase, Totsy will plant a tree in your honor!
Sign up for Totsy and other flash sale sites to be sure you're in the know on what's hot!
(Visited 66 times, 3 visits today)