For a mouth-watering, three-napkin, easy feast for a crowd, look no further than Slow Cooker Italian Beef Sandwiches. I have made this several times in the fall and winter, for just our family as well as larger family gatherings. It's a fix-it-and-forget-it kind of meal, with just a couple of simple steps after the Italian Beef has cooked, to make it sandwich-ready.
Slow Cooker Italian Beef Sandwiches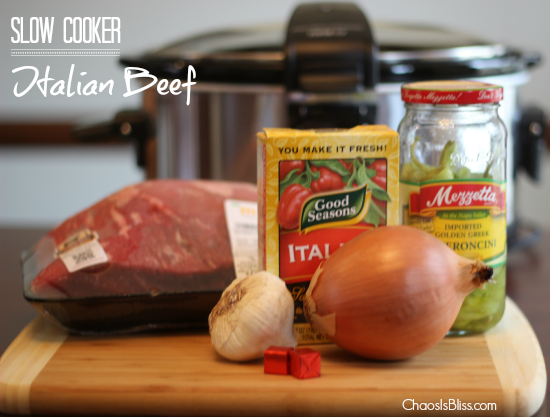 This list of ingredients is based on serving 4 people. It is the perfect size for my husband and I, and our 3 kids, as they generally only eat 1/2 a sandwich. Adjust the size of roast and ingredients for the size of your family or gathering. Just be sure your roast isn't too large for your slow cooker – if it is, use a 2nd one or borrow from a neighbor!
Ingredients:
3-4 lb. chuck roast
1 medium onion, diced
3 garlic cloves, minced
2 packets dry Italian dressing mix (I use Good Seasons)
3-4 pepperoncinis + 2 Tbs. juice from jar (try Mezzetta)
2 beef bouillon cubes
4+ slices provolone cheese
4 Hoagie buns
Easy peazy directions:
Place roast in slow cooker. Add next 5 ingredients, and pour in enough water to nearly cover roast. Cook on high 3-4 hours, or low 7-8 hours until roast is fork-tender.
During the last 15 minutes, prepare hoagie buns by buttering the inside of the tops and bottoms (I use salted butter), and placing face up on a baking sheet. Broil for 2-3 minutes on low for a nice buttery toast. This adds a rich, salty flavor and helps to minimize a soggy bun.
Keep the bottom half of hoagie buns on the baking sheet. Once roast is fork-tender, chunk up or shred and place a modest amount on bottom half of bun. Top with a slice of provolone cheese, and pop under the broiler for another 1-2 minutes until cheese is melted.
Top your bun and serve piping hot. You can add the juice (au jus) from the slow cooker for dipping, or I drizzle a little on the meat before adding the provolone.
Enjoy!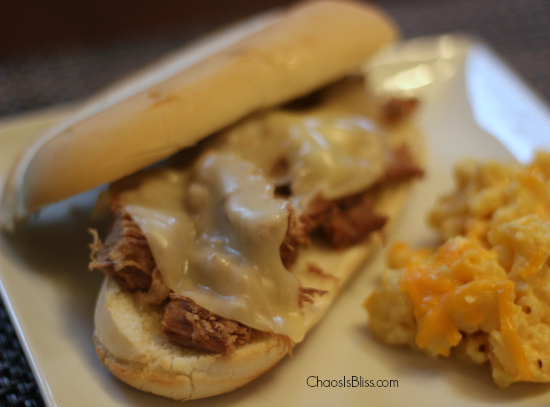 Be sure to check out more of my family favorite recipes, including:
(Visited 2,053 times, 9 visits today)