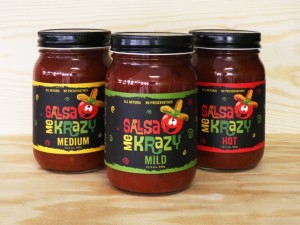 I have a fairly delicate palate for spicy foods. Just last night I hosted a cooking club with some friends, and for our Superbowl/New Orleans theme I chose a few recipes with some "kick", like Stuffed Jalapenos, Buffalo Wings and Red Beans & Rice with my first taste of Creole seasoning. So I'm working on kicking my taste bud tolerance up a notch, so to speak.
Salsa Me Krazy is a Greenwood, Indiana-based maker of … you guessed it, salsa. When I was offered a sample of Salsa Me Krazy and given my heat options of Mild, Medium or Hot, I was tempted to try the Mild for fear of a mouthful of flames with the other two options. But then I opted for Medium, mainly because I figure Mild is like the "White Zin" of the salsa world and I really can't give it a good review effort unless I hike up my britches and try at least a Medium.
I got my shipment on a Friday afternoon, packed so carefully with bubble wrap, and I popped it open before I even said hello to my kids getting off the bus. I grabbed my Tostitos, dipped one in and braced myself for what I expected to be a fiery blast. I cracked open a cold one to quickly cool my taste buds, if a fire needed put out.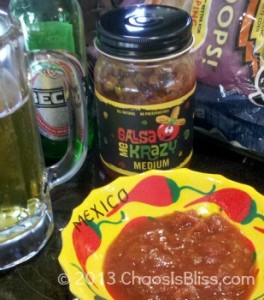 Right away I was delighted with the sweet taste, tangy and a bit of kick, but not nearly the heat I was dreading. In fact, it was so nom nom good I seriously chowed the 1/2 cup or so I had poured into my festive salsa bowl. I could have just eaten it with a spoon, sans chip. I am really looking forward to trying Salsa Me Krazy in a couple of new recipes (look for more on that next month!).
Salsa Me Krazy is praised for using all natural ingredients made in the U.S.A. with no artificial preservatives. It's a locally-owned Hoosier business looking to expand into specialty, gourmet and grocery stores (you can find their products in just a few retail locations in Carmel, IN; Kansas City, KS and a few in Missouri). Why there's not a Greenwood, IN store that hasn't picked up this deliciousness for their salsa shelves is beyond me (so please, tell your retailers to carry Salsa Me Krazy!). If you're a salsa connoisseur, you'll have to take my word for it, try it out and see for yourself.
Buy It
Try Salsa Me Krazy for yourself and grab a jar of Mild, Medium or Hot for just $6.95 + shipping, or try a 3-pack deal available on Salsa Me Krazy's Facebook page for just $15 + shipping.
Win It
I'm as happy as habanero to be able to give away a jar of Salsa Me Krazy to one lucky Chaos Is Bliss reader! The contest starts now, and ends at 9pm ET on Monday, February 4, 2013. The winner will be randomly drawn using And The Winner Is, notified by email and have 24 hours to confirm before another name is drawn.
How to Enter

Required Entry
1. Leave a comment with the answer to this question: How do you enjoy salsa … dipping chips, in a recipe or by the spoonful?
Extra Entries (optional)
**Please leave one comment for each optional method you complete to finalize your entry. You will receive (1) bonus entry for each optional method completed.
2. "Like" Chaos Is Bliss on Facebook below and leave a comment back here letting me know you're a fan!

3. "Like" Salsa Me Krazy on Facebook below and leave a comment back here letting me know you're a fan!

4. Follow @ChaosIsBliss10 and @SalsaMeKrazy on Twitter AND tweet the message below! Leave a comment back here with a link to your tweet.
#Win a jar of sweet & spicy @SalsaMeKrazy via @ChaosIsBliss10 #giveaway http://tinyurl.com/baf9rmd
Follow @ChaosIsBliss10
Follow @SalsaMeKrazy
This post was sponsored by Salsa Me Krazy. All opinions are 100% mine. See my disclosure policy for more information. This giveaway is not associated with nor sponsored by Facebook. We hereby release Facebook of any liability. The contest is open to adults ages 18 and older. For each task you complete and comment on, you will gain one entry. Winners will be verified of completing the tasks listed prior to the winners being announced. One (1) winner will be selected at random using And The Winner Is. Duplicate entries and falsifying entries will be disqualified. The winner will be notified and given 24 hours to confirm. After this time if a winner is not confirmed, a new winner will be drawn.here.
(Visited 182 times, 2 visits today)