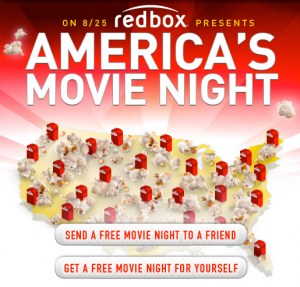 Today's the day to use your FREE Redbox code from their "America's Movie Night" promotion on Facebook. But not to worry if you haven't signed up for your code yet. Just head to the Redbox Facebook Page and click on the tab "America's Movie Night".
There you'll find a link to get a free DVD rental code for yourself, and another link to send one to a friend. These codes are only valid all day today, Thursday, 8/25/11.
New to Redbox? Take a look at Redbox locations near you, browse and reserve ahead of time so you get exactly what you want!
Make sure to also look at other Facebook offers and entertainment deals going on now!
This post may contain affiliate links. By using these links you are supporting my site – thank you! See my disclosure policy here.
(Visited 27 times, 4 visits today)