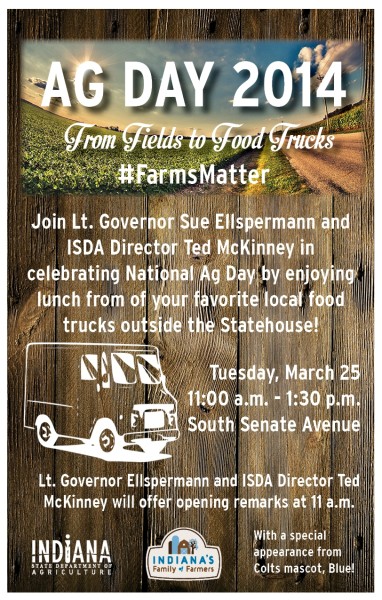 Next Tuesday I will be joining many of my fellow Indy bloggers and farm friends from Indiana's Family of Farmers downtown by the State House for Indiana Ag Day, and you're invited!
What: Indiana Ag Day
When: Tuesday March 25, 2014 from 11:00am – 1:00pm
Where: Outside the Statehouse, South Senate Ave.
Why: Because you like to eat good food. And you love Indiana. And you support local agriculture. Right?!
Last year I attended the event and our wee little tummies were stuffed with amazing creations from local Indy food trucks, and this year's lineup promises to look just as fulfilling!
There's no need to RSVP, just show up and show your support! Come at 11:00 to hear opening remarks by Lt. Governor Sue Ellspermann, and enjoy some (crossing fingers) Spring sunshine as you browse and lunch on local food truck fare.
So … do you have a favorite food truck? Leave me a comment and give them a shout out!  Last year I gorged on Little Eataly, hoping they'll make a return but I'm looking forward to finding new faves!
Be sure and share this post with your local friends so we can show our support for local farmers, because as you know, #FarmsMatter! You may also follow Indiana's Family of Farmers on Facebook and Twitter for more details on this and coming events!
Find more great Indiana happenings and deals posted recently!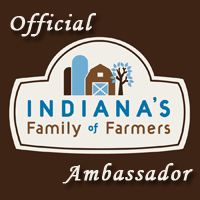 I am a proud ambassador of Indiana's Family of Farmers, All opinions and my love of Indiana and food trucks are 100% my own. See my disclosure policy for more on that.
(Visited 77 times, 1 visits today)