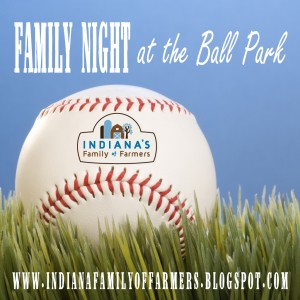 Nothing screams summer in Indy like a trip to Victory Field to see the Indianapolis Indians!
Now that our kids are a bit older, we can relax without worrying about chasing a toddler around. We love to arrive early for the fun giveaways, games and people-watching. My kids are in wide-eyed every time we step inside Victory Field and they see the huge playing field and the stands with "all those people".
Indiana's Family of Farmers would love to send one lucky Chaos Is Bliss reader to Family Night at the Indians!
One winner will receive up to 8 tickets to the June 11th game at 7:05pm vs. the Rochester Red Wings (gates open around 5:30pm). Bring the whole family! If you don't need all 8 tickets for your family, we'll share with a second winner!
Guests are also invited to join IFOF's In-Game Picnic in the Coors Light Corner (note: this is a different location than last year.) The picnic starts at 7:30 and goes through the game.  You will have the option of watching the game from the picnic area or from your seats, which are in 120 on the first base side.
Kids 2 and under are free on a lap or on the lawn.
The contest is open NOW and will end at midnight Thursday, 5/31/12. Good luck!
Increase your chances of winning! Several Indiana blogger friends are hosting their own Family Night at the Indians ticket giveaway. Sign up on any or all of them to up your luck!
Angel's Homestead  ended
Redefining Perfect  ended
4th Frog  ended
Basilmomma  ended
Kat's Cafe  ended
Family Fun in the City  still open!
Gotcha Baby  still open!
Sponsored by Indiana's Family of Farmers. For more information please see my disclosure policy. Contest is open to Indiana residents only, ages 18 or older. For each task you complete, you will gain one entry. By clicking the green "I did this!" buttons you are confirming that you completed the task. You are also agreeing that you are entering on your own free will, and are interested in winning. Winners will be verified of completing the tasks listed prior to the winners being announced. One (1) winner will be selected at random, duplicate entries and falsifying entries will be disqualified. Winner will be notified by email on Friday, 5/25/12 and will have 24 hours to respond. Should the winner not respond in the time allowed, another name will be drawn.
still open!
(Visited 52 times, 3 visits today)