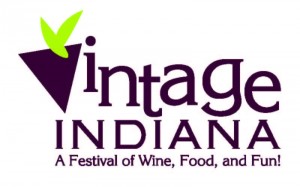 My husband and I have enjoyed attending Vintage Indiana for several years now. The dynamics have changed a bit since having children, but some years we take them and some we don't!  The fun and festivities at the event only get better each year, with or without kids.
What I love about the festival is the opportunity to try local Indiana wines that don't make it to major grocery store shelves. I consider them to be hidden treasures waiting to be discovered! And you may even find your favorite new wine is just a stone's throw away.
The 2012 Vintage Indiana Festival will take place at Military Park in downtown Indianapolis on Saturday, June 2nd from 11am-7pm.
Here's what's on tap (in the barrel?) for Vintage Indiana:
26 Indiana wineries will sample more than 200 wines
Sample foods from local and national restaurants
Free concerts begin at 12pm and go through 6:45pm, and feature Mike Milligan & Steam Shovel, Hoosier favorite Jennie DeVoe and former American Idol Casey James!
Browse local artist booths
Stop by the Food & Wine Pavilion for quick & easy tips and recipes from local chefs and winemakers, such as "Beat the Dinnertime Clock".
Bring the children to the KidZone for kiddie fun!
Ticket prices are $22 for adults in advance ($25 at the gate), $10 for Designated Drivers, children age 6-20 are $5 each and under 6 are free. Your ticket price includes wine sampling, concerts & booths, and a souvenir sampling glass with the Vintage Indiana logo for the first 10,000.
You have a chance to get FREE tickets to Vintage Indiana! Indiana Family of Farmers has provided me with a pair of tickets to give away to one lucky Chaos Is Bliss reader!
The contest is open NOW and will end at midnight Friday, 5/25/12. Good luck!
Increase your chances of winning! Several Indiana blogger friends are hosting their own Vintage Indiana ticket giveaway. Sign up on any or all of them to up your luck!
Redefining Perfect
Gotcha Baby
Evoked by Light
The Average Parentt
Mom for Less
Kat's Cafe
Basil Momma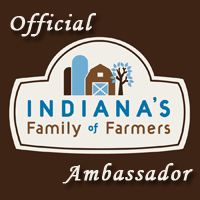 Sponsored by Indiana's Family of Farmers. For more information please see my disclosure policy. Contest is open to Indiana residents only, ages 18 or older. For each task you complete, you will gain one entry. By clicking the green "I did this!" buttons you are confirming that you completed the task. You are also agreeing that you are entering on your own free will, and are interested in winning. Winners will be verified of completing the tasks listed prior to the winners being announced. One (1) winner will be selected at random, duplicate entries and falsifying entries will be disqualified. Winner will be notified by email on Friday, 5/25/12 and will have 24 hours to respond. Should the winner not respond in the time allowed, another name will be drawn.
(Visited 46 times, 1 visits today)