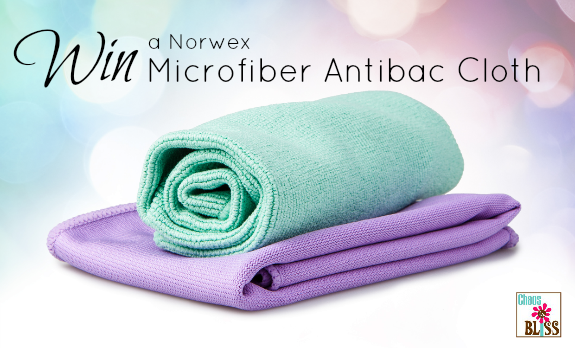 I shared back in December why I decided to get a little busier, and join Norwex as a consultant. I had heard from several friends who were using these magical cloths that "clean with just water" and I decided to first host a party. I liked the products so much, I became a consultant.
Two staples in the Norwex microfiber product line are our Enviro cloth and Window cloth, both "Antibac" – silver is embedded into the microfiber giving it antimicrobial properties against bacteria picked up on the cloth.
When you hear a claim that you can clean with "just water", sometimes it's a bit hard to believe.
Until you try it.
Norwex Enviro Cloth
One of my favorite moments at a party is when I demonstrate an Enviro cloth and I hear a form of "Whoa … you got it that clean with just water?!"
Kitchen and bathroom counters, fingerprint-y walls, sinks, appliances – all are cleaned with just a damp Norwex cloth, and absolutely no chemicals.
Norwex's microfiber is so "micro" that it is 1/200th of a human hair. This gives it the ultimate stick-to-it-ness (my word, not theirs) using static electricity to pull up dust, dirt … EVERYTHING.
And if you don't believe me, maybe you'll believe Andy (well, technically the lab results).
Action News 5 – Memphis, Tennessee
Norwex Window Cloth
Like the Enviro, the Norwex Window Cloth is antibac microfiber – but with a different weave, allowing it to polish windows, mirrors, chrome and more – without Windex or any other cleaner, streak-free! I use our adjustable spray bottle to spritz a light mist of tap water onto my bathroom mirrors, but you certainly can use it perfectly dry.
The price of the Enviro cloth is $16.49, and the Window cloth is $18.49, and they're available in a Basic Package discount for $31.99 (+ s/h). Yes – they're not 'cheap', because they're not made cheaply. You will no longer need to buy chemical cleaners, and you will use these over and over again – the same cloth will last years! There are other microfiber cloths on the market and online – and it's likely they may cost less. However I would encourage you to try them side by side and see which absorbs more, which picks up more dirt, leaves less lint/dust, and which stands up use after use. Norwex cloths have a 2-year warranty.
Free Starter Kit in February
If using less chemicals in your home and simplifying your cleaning is something you feel passionate about, you might consider becoming a Norwex consultant as during February you can join for FREE! This is how I made my decision to become a consultant back when the free starter kit was offered last August.
The "Fast, Fun & Free" starter kit includes:
Enviro Cloth (Green) (Antibac)
Enviro Cloth (Red) (Antibac)
Window/Polishing Cloth (Purple) (Antibac)
Dust Mitt (Antibac)
SpiriSponge 2-pack
plus training materials and more!
Fill out this form and I'll be in touch!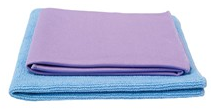 GIVEAWAY
So while I would love to gift each one of my readers with a free Norwex cloth, but alas I'll be giving just one away! One winner will receive his or her choice of either an Enviro Cloth or Window Cloth. You can learn more about these products here.
The contest begins now, and ends next Tuesday night at midnight. Good luck!
a Rafflecopter giveaway

This giveaway is not associated, nor sponsored by Facebook. The giveaway is being hosted by Chaos Is Bliss. We hereby release Facebook of any liability. For each task you complete, you will gain one entry. By clicking the green "I did this!" buttons you are confirming that you completed the task. You are also agreeing that you are entering on your own free will, and are interested in winning. Winner will be verified of completing the tasks listed prior to being announced. One (1) winner will be selected at random; duplicate and falsified entries will be disqualified. The winner will be notified and given 24 hours to confirm. After this time if a winner is not confirmed, a new winner will be drawn.
This post is sponsored by – well, me, as an Independent Consultant with Norwex. See my disclosure policy.
(Visited 952 times, 6 visits today)