This post was sponsored by Azteca Foods. For more info please see my disclosure policy.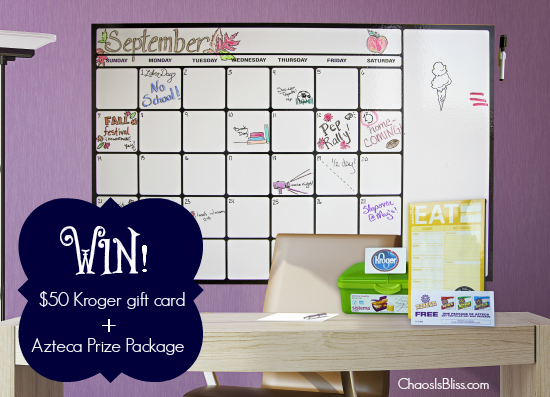 Now that Carlie's in Kindergarten, I have no idea where our $2.40/day goes for her lunch, but definitely not in her belly.
The very first day of school she trotted off the bus and said, "I did not have time to eat all my lunch." (The girl refuses to use contractions, it's the cutest thing.)
But not having time to eat is total baloney because she's just repeating the phrase her older sibs have said for the last 3 years. For them? I believe it, they're chatterboxes. For Carlie? No way. She has the time, she just doesn't like the lunch.
So I'm trying to pack her lunches most days, and looking for ideas that are easy for me to make, easy for her to hold, not terribly messy, and most importantly … she'll eat it.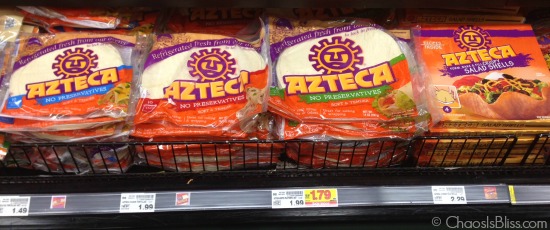 Azteca Foods has launched a new No Preservative flour tortilla line that's in Kroger and other stores, in the refrigerated section (helpful hint: it's near cheese).
Tortillas are perfect because you can stuff them with nearly anything, make them savory or sweet, main meal-ish or dessert-ish, and they're incredibly affordable ($1.79 on sale at Kroger when I took this picture!).
I used an Azteca tortilla to make a creation for my daughter that she LOVES! I call it Strawberry Fields Roll-up. It's healthy – which I love; and it's sweet – which she loves. Win-Win.
GIVEAWAY
To help your family make healthier-for-you lunches, Azteca Foods has given me an AMAZING prize package to give to one lucky Chaos Is Bliss reader!
One winner will receive the following (pictured at the top of the page!):
$50 Kroger gift card
Azteca Free Product coupon
Meal planning notepad
BPA-free lunch container
Dry erase wall decal calendar (you guys, it's from Pottery Barn!!)
The contest begins NOW, and ends at 11:59pm next Tuesday, 8/26/14. Good luck!
a Rafflecopter giveaway
Try my
Strawberry Fields Roll-up
recipe and see if your kids (or you!) enjoy it too! You can also
Pin it here
.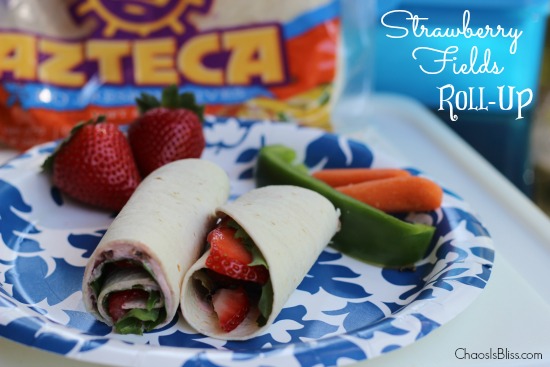 Want another chance to win? Visit my most awesome bloggin' friends right here:
Before you scoot on outta here, check out these related posts:
(Visited 278 times, 2 visits today)