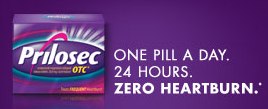 Fill out the short questionnaire to see if you qualify for a FREE sample of Prilosec OTC.
Free samples go quickly, some may even be gone by the time you read this!  Be sure you're a fan of Chaos Is Bliss on Facebook so you get fast notice when deals like this come available!
Help keep your postal carrier employed … sign up for more freebies mentioned here lately.
(Visited 17 times, 1 visits today)