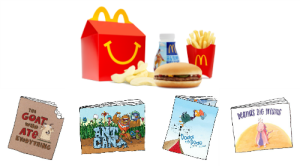 This week has been Reading Week at my kids' school, with lots of reading activities, mystery readers in the classrooms and what I dread each year: Dress Like Your Favorite Book Character Day. I start to break out in a cold sweat fearing they'll choose some really obscure character and I'll have to make a late night Goodwill run!
My kids are avid readers, and we while we have books in every corner of the house, we continue collecting more; and we love passing on books when they've been read the umpteenth time.
McDonald's Happy Meal Books
Starting today, McDonald's Happy Meal Books will be a fun surprise for kids. Each Happy Meal will include one of four limited edition books:
The Goat Who Ate Everything
Deana's Big Dreams
Ant, Can't
Doddi the Dodo Goes to Orlando
Through the characters' stories, the Happy Meal Books help deliver a nutritional or active play message which is relatable and fun for kids!
McDonald's Give a Book, Get a Book
In conjunction with the Happy Meal Books promotion, McDonald's is having a Give a Book, Get a Book drive through November 14th in which you may donate a new or gently read book to one of several central Indiana drop-off locations (including Ronald McDonald House, local libraries and more) and receive a "Be Our Guest" card for a FREE McDonald's Happy Meal!
McDonald's Happy Meal Prize Package Giveaway
Here's the fun part … I have been provided with a McDonald's Happy Meal Prize Package to give away to one lucky Chaos Is Bliss reader!
Included in the McDonald's Happy Meal Prize Package:
5 FREE Happy Meals
1 Limited-Edition Book
$10 Amazon Gift card
This giveaway is to promote the McDonald's Happy Meal Books and Give a Book, Get a Book campaign at Central Indiana McDonald's locations, and therefore is for Indiana residents only.
The giveaway begins NOW and ends at 11:59pm on 11/7/13.
Increase your chances of winning by also entering these fellow bloggers' contests:
Be sure to also enter my other Indiana giveaway for a 4-pack of tickets to Studio Movie Grill Indianapolis!
You may also want to check out other Indiana deals and deals for kids posted recently!
I was provided with a similar Happy Meal prize package for my kids to enjoy in exchange for conducting this giveaway. This post contains affiliate links. By using these links you support my site – thank you! See my disclosure policy.
(Visited 183 times, 1 visits today)