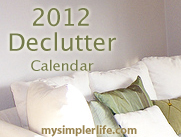 If decluttering is one of your New Year's resolutions, try out this FREE download from My Simpler Life. It's a 12-month 2012 Declutter Calendar full of organizing tips, and daily to-do's.
Today's to-do, for example, is to set up a "Donation Station", where you can toss items for donating, delivering, gifts etc.
Thanks Money-Saving Mom!
Miss any freebies posted here lately?
(Visited 61 times, 1 visits today)