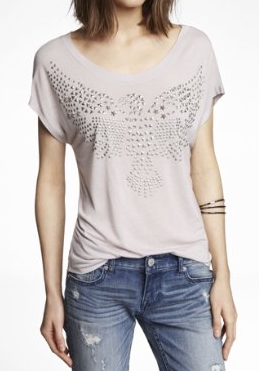 Express Coupon Code
Today through July 14th you can save big on the latest styles for women and men with the Express.com coupon code below, plus match with sales below!
Use Express coupon code 1575 for your savings. You'll have free shipping on your order of $125 or more.
Match the promo code with these sales for even bigger savings!
How can you get a pair of jeans for under $45?
Express Deal Scenarios
Most jeans (such as the Stella Petal Hem Jean Legging above) are $79.90. Applying the BOGO 50% Off sale you can get 2 pairs for $119.85. Take off $30 from the coupon brings you to $89.85, or $44.93 each!
Or for bigger savings and to take advantage of the free shipping, grab 2 pairs of jeans ($119.85 after sale) plus two tops (like the Dolman Studded Tee at the top of the post) for $39.90, Buy 1 Get 1 50% off makes them $59.85. Add in a Cami or Sleeve Tee in the Sale section for $9.99 and you have …
$119.85 + 59.85 + 9.95 = $189.85 – $60 = $129.85 Shipped for all 5 items, an average of $25.97 each!
Coupon code good through 7/14/13.
Check out other ways to save when shopping online!
This post may contain affiliate links. By using these links you support my site – thank you! See my disclosure policy here.
(Visited 45 times, 1 visits today)