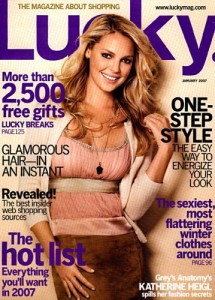 Just through midnight, you can purchase a new 2-year (24 issue) subscription to Lucky Magazine for just $5.99, just $2.98 per year! The price will show up as $23.98, but use coupon code CHAOSISBLISS to reveal your discounted price at checkout.
About Lucky Magazine:
Lucky Magazine is the ultimate shopping magazine subscription. Each issue includes thousands of items ranging from clothes and jewelry to beauty products and accessories. Handy stickers help you mark the pages you love, and special features show comparable products in every price range to help you match the latest fashion trends on a budget. Shopping guides help you find trendy boutiques and hot sales in you area, and each issue features an exclusive only for Lucky readers.
Offer expires 8/31/12. The same coupon code CHAOSISBLISS will get you a 20% discount on nearly any other magazine you see!
Check out other coupon codes to help you save even more when shopping online!
This post may contain affiliate links. By using these links you support my site – thank you! See my disclosure policy.
(Visited 33 times, 3 visits today)